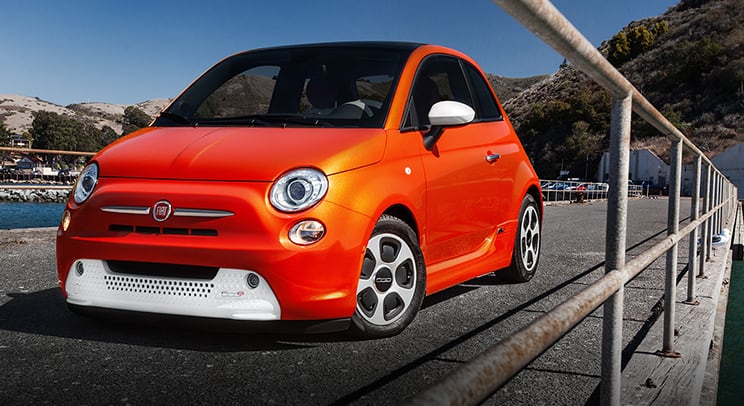 New 2015 FIAT 500e at Arrigo Automotive Group near Tamarac, FL
If you want a 100% electric car that won't emit any carbon dioxide, then you should consider the 2015 FIAT 500e. Although the 2015 500e is great for the environment, it makes a bold fashion statement at the same time with its seven available exterior colors. It was manufactured with Italian influence. You can save a lot of money with this vehicle, as you will not need to pay for gas. The 2015 500e started being available only in California and Oregon, but it's making its way across the country.
Browse Our 500e Inventory
Under the 500e's Hood
The 500e's engine provides 111 horsepower and 149 lb-ft of torque. The transmission is a single-speed one. The car can travel to to 100 miles on just one electrical charge. The 500e can achieve 122 MPGe (miles per gallon equivalent) city and 108 MPGe highway. Combined, this comes to 116 MPGe. The vehicle's lithium-ion battery is stored under the floor, and is there for better weight distribution throughout the vehicle. It takes four hours to charge the car with a 240v charger and 24 hours with a standard 120v household outlet.
Schedule Service for Your FIAT
Design of FIAT 500e
Inside you will find a seven-inch TFT screen that will show you battery info, range details and other vehicle information. You will have six speakers for the SiriusXM stereo system. You will also have a TomTom navigation unit with a 4.3-inch touchscreen display. There is automatic climate control for all occupants' comfort. The vehicle has power windows and locks for easier rolling-down and up of windows and making sure that your car is safe and secure while away. You can get back in using keyless entry.
Find FIAT Parts
Conclusions
You will be able to have a rear park assist system to make backing into or out of parking spaces easier. The car has different types of airbags such as ones for knees, and dual-front and front-side ones. The car also has full-length side curtain airbags. The vehicle has brake assist, and a tire-pressure monitoring system so you know when you have to fill up your tires to avoid a flat. Come check out a 2015 FIAT 500e today and see how it could be your new best friend for the road.
Inquire About FIAT Financing