2005 Dodge Ram
Check out our Used Dodge Ram Inventory!!!
Introduction
This may be the golden age of the full-size pickup and the all-new Ford F-150 may be the best choice, depending on what you want in a truck.
2005 Dodge Ram Review
Rams are smooth and refined, particularly when compared with the previous generation. The Quad Cab is handy for hauling friends and family but even the standard cab is roomy. Arguably, the Ram is the best-looking truck on the market. The Hemi V8 engine has drawn much attention for its power and efficiency as well as the heritage its name evokes. It is an exceptionally good engine, smooth and very responsive. The popular 4.7-liter V8 delivers responsive performance. It's also smooth and sophisticated, benefiting from a modern overhead-cam design. Full-time four-wheel drive (all-wheel drive) is available with the 4.7-liter for improved stability in slippery conditions.
2005 Ram Trims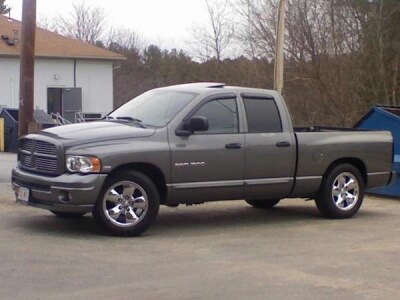 Dodge Ram is available in two cab configurations, Regular Cab and Quad Cab. Quad Cabs are four-door models that ride on a wheelbase 20 inches longer than comparable Regular Cab models. Two bed lengths are available, a 6-foot, 3-inch standard bed and an 8-foot long-bed. Long-bed Rams also get a bigger fuel tank, 35 gallons in place of the standard 26-gallon tank.
Several engines are offered: Most popular is the 4.7-liter V8, a modern overhead-cam engine. SLT comes standard with the 4.7-liter V8, and adds cloth upholstery, nicer interior trim, a leather-wrapped steering wheel, a host of convenience items, and wider tires.
Laramie is the top trim level, with leather seating surfaces, dual-zone air conditioning, a premium stereo, 17-inch cast aluminum wheels, and a long list of luxury features. Sport trim, available for most models, includes fog lights, 17-inch aluminum wheels, body-colored exterior trim, and special interior trim. Aggressive 20-inch wheels and tires are also available.
The SRT-10 is available in both regular cab and Quad Cab models for 2005.
A power sunroof with one-touch open and close features is a new option for 2005 Quad Cab models. Sirius Satellite Radio is available for 2005 Quad Cabs as well. The Work Special package is designed to deliver affordability with gray bumpers, grille, and 17x7 steel wheels.
The Dodge Ram presents a bold, distinctive appearance with its big horse-collar grille and Freightliner fenders. Modern and contemporary, the current design improved on the best of the previous, ground-breaking design. 2005 brings new rear badging, including a chrome Ram's head on the center of the tailgate. 
Laramie models are distinguished by an all-chrome grille surround and chrome billet grille center, along with chrome bodyside moldings. Sport trim features a body-colored grille surround and body-colored crosshairs with unique chrome billets in the center. Moving rearward, the Ram presents robust appearance. An integrated air dam aids engine cooling and air conditioner performance. Ram beds are fitted with boat cleats designed to handle 1,000 pounds each.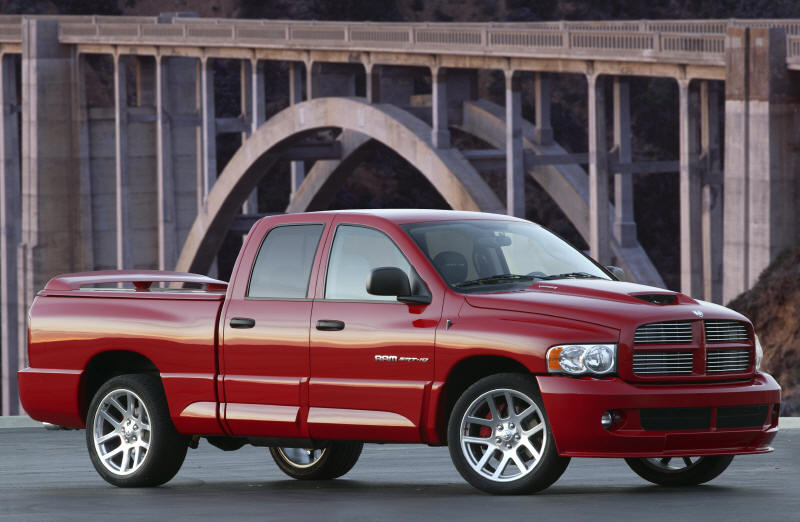 Rams sit relatively high off the ground, particularly the four-wheel-drive models. Tailgate load height is 35 inches on four-wheel-drive models, 33.6 inches on two-wheel-drive Rams.
2005 Dodge Ram Interior
The Dodge Ram is among the roomiest of the full-size pickups and its cab is a pleasant place to be. Dodge added 3 inches to the cab's total length when the Ram was redesigned for 2002, stealing that space from the bed. Regular Cab and Quad Cab versions offer identical roominess in the front seats. 
The Ram comes with a front bench seat split 40/20/40. Laramie models get silver trim adorning the door panels and instrument bezels. Laramie comes with distinctive leather trim, with higher contrast color seat inserts.
On leather-trimmed models, cloth is used on the inboard seat-bottom trim where leather would have offered a cleaner appearance. The big fold-down center armrest/console comes with adjustable dividers and a power outlet. Big mirrors on the Ram make it easier to see what's behind. 
Side-curtain airbags are a $390 option on Regular Cabs, $490 on Quad Cabs. Optional steering wheel audio controls improve this situation with brilliantly designed buttons behind the steering wheel that are easy to use. Overall, the center dash is a paradigm of convenience. Large heating, ventilation, and air conditioning (HVAC) buttons can be operated while wearing gloves. Regular Cab models come fitted with a tray behind the seats big enough to hold a large bucket. Big hooks behind the seats are handy for hanging dry cleaning or plastic shopping bags.
2005 First Drive Dodge Ram
The new 5.7-liter Hemi V8 gives the Dodge Ram responsive performance. Though it's an overhead-valve design, the Hemi features twin spark plugs, direct ignition, and electronic throttle control. It achieves the holy grail of engine improvement, increasing power while improving fuel economy at the same time. The Hemi generates 345 horsepower at 5400 rpm and 375 pound-feet of torque at 4200 rpm. A properly equipped Hemi increases the Ram's towing capacity to 9200 pounds and payload by an additional 500 pounds. The popular 4.7-liter V8 delivers responsive performance as well, though it doesn't offer the trailer-towing torque of the 5.7-liter. Equipped with the 4.7-liter, the Ram feels eager around town and on winding roads. The 4.7-liter V8 uses an overhead-cam design, smaller and more efficient than the overhead-valve engine it replaced. It also achieves good fuel efficiency (14/19 mpg with 2WD). It revs higher than an overhead valve engine and generates 240 horsepower and 295 pound-feet of torque. The 4.7-liter V8 feels smooth and refined, emitting a pleasant American burble while underway. The optional five-speed automatic improves the responsiveness of the 4.7-liter engine and is more responsive than four-speed automatics.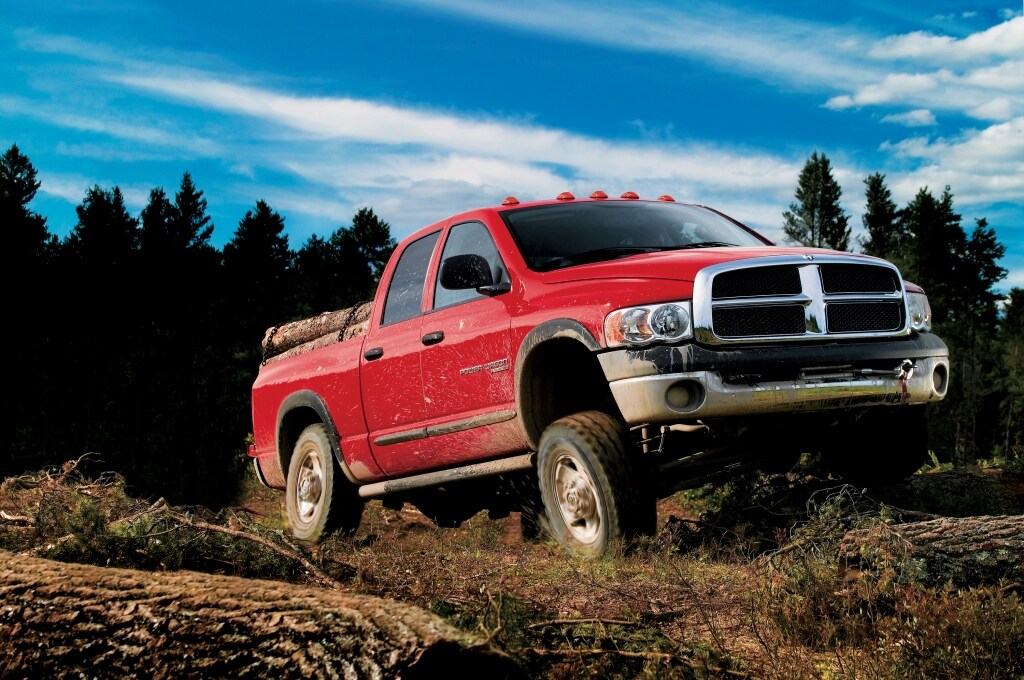 The 3.7-liter V6 is smooth and works well with the manual six-speed gearbox. The overhead-cam 3.7-liter V6 has been upgraded for 2005 for a smoother idle, improved fuel efficiency and more low-end torque. The Ram has a pleasant ride quality, important on long days. It's much smoother than the previous-generation Ram. Its rigid chassis minimizes road vibration. Rack-and-pinion steering sharpens handling, though we've noticed some on-center vagueness. Big 17-inch wheels are standard. The result overall is that the Ram offers responsive handling, a comfortable ride, and a general feeling of tightness. 
2005 Dodge Ram Conclusions
The Dodge Ram offers big power and big capabilities. It's responsive and comfortable as an every day driver and it's ready to do some serious work when called upon. Ram's distinctive styling makes it stand out in a rapidly improving field. Ram Quad Cab models offer a brilliant combination of comfort and utility. Regular Cab versions are far roomier than they used to be, and are thoughtfully set up to accommodate gear behind the seat. Ram is The cathedral of all pickup trucks; a steel Mecca for those who worship big numbers. says PickupTruck.com. The responsive 4.7-liter V8 delivers good acceleration and gets the job done; it's paired well with a new five-speed automatic that's smooth and responsive. The new 5.7-liter Hemi delivers strong acceleration performance and is an excellent choice for towing.