2005 Dodge Magnum
Check out our Used Dodge Magnum Inventory
2005 Dodge Magnum Summary
With the new Dodge Magnum, you don't have to call your car a truck any more. Suddenly, with the new Dodge Magnum, it fits. It's a full-size American car with spacious cargo capacity and available all-wheel drive. The Magnum comes standard with a 190-horsepower double-overhead-cam V6.

Full 2005 Magnum Review
For 2005 three Dodge Magnum models are available. It uses Chrysler's proven 2.7-liter aluminum V6 mated to a four-speed automatic transmission, rated to tow 1000 pounds. Standard equipment includes premium cloth interior, air conditioning, power windows and locks with remote entry, a 60/40 split rear seat with center armrest, AM/FM/CD sound system, tilt-telescoping steering column, solar control window glass, rack-and-pinion steering, 17-inch wheels and disc brakes. The SXT comes with a 3.5-liter single-overhead-cam V6 that makes 250 horsepower and gets 19/27 miles per gallon on 89 octane recommended, 87 acceptable. In these days of high V8 horsepower, that 250 number might have lost its meaning, but 250 horsepower is a lot, especially effective with 250 pound-feet of torque as this engine offers. The SXT uses the same four-speed automatic with a tall overdrive for good gas mileage. 2005 SXT models will also offer all-wheel drive, which comes with a five-speed automatic. Equipment-wise, the SXT most notably adds the magic combination of ABS with brake assist, all-speed traction control and electronic stability. It also offers aluminum wheels, tinted glass, cargo cover, and an eight-way power driver's seat.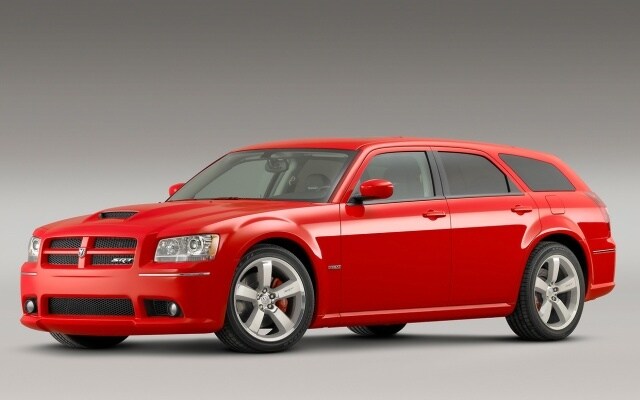 The R/T gets the 5.7-liter V8 Hemi, delivering 340 horsepower and a humongous 390 pound-feet or torque, rated to tow 3800 pounds. It uses a five-speed automatic transmission with AutoStick, designed by Mercedes and built in the U.S. by Chrysler. The R/T adds to the SXT features a leather interior, bigger and beefier brakes, 18-inch polished aluminum wheels, dual exhausts, foglights, and a Boston Acoustics premium six-speaker sound system with a 288-watt digital amplifier.
Optional equipment includes a power passenger seat, heated front seats, dual zone automatic climate control, electronic vehicle information center, electrochromic rearview mirror, front and rear air curtains, air filtration, self-sealing tires, hands-free cell phone capability, power adjustable pedals, GPS navigation system with integrated six-disc CD/MP3 player, SIRIUS satellite radio, sunroof and load-leveling shocks.
2005 Dodge Magnum Exterior Design
The styling of the Magnum is so distinctive that a picture will say far more than words can. It's a long, low, beefy station wagon on a wide track with big bold grille and a chopped top. It would be an understatement to say the Magnum has presence. Others call this new direction a sports wagon. And that's what it is: a crossover between sports car and station wagon. More accurately, the Dodge Magnum is a crossover between muscle car and station wagon. The wheel cutouts are profound, and especially imposing with the 18-inch 10-spoke wheels on the RT. The black trim around the windows is in keeping with the car's style, but the chrome ding-strip down the side seems gratuitous.
2005 Dodge Magnum Interior Features
If you have any doubts about the Magnum carrying as much as your SUV, fold the rear seat down flat, lift the gate, easily climb inside and crawl around a bit. Dodge lists the cargo capacity as 27.2 cubic feet with the rear seats up and 71.6 cubic feet with them down, while the EPA interior volume indicates 133.1 cubic feet. We really liked the Magnum's gauges, handsome and all business, white background with black numbers and stainless trim rings. The four-spoke steering wheel was sharp, with buttons for cruise and sound control. The console compartment is decent sized, and contains practical coinholders. There's also a sunglasses holder within the driver's reach.
First Drive 2005 Dodge Magnum 
The Dodge Magnum was a car we didn't want to stop driving. All that horsepower, all that torque, great tight handling, solid comfortable ride, very enjoyable instrument panel and steering wheel and seats. The specs say that the engine is electronically limited to 5800 rpm, but our Magnum shifted at 5500. The engine felt easily underworked at that speed. Even with all that power and torque, the acceleration isn't neck-snapping; the Magnum has a very tall final drive ratio of 2.82, which is great for gas mileage and quiet running, but tempers acceleration. There were times it felt like it had 340 horsepower, and times it didn't. With torque peaking at 4000 and horsepower peaking at 5000, there's a relatively small area of maximum happy performance for such a big engine. With better gripping tires it's unlikely that intrusion would occur.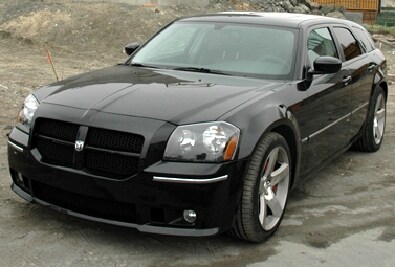 The front vented rotors measure a huge 13.6 inches and the rear vented rotors are 12.6; additionally, the fronts use dual piston calipers. Couple that mechanical strength with ABS with brake assist, which balances the braking between front and rear, and no worries, you're going to stop when you need to.
2005 Dodge Magnum Conclusions
The Dodge Magnum is a landmark car. The Magnum SE comes with a good and proven V6 engine, making more horsepower than the six-cylinder that's in the BMW 525i Sport Wagon, which costs $40,000. Ultimate American station wagon. Very fast. Solid handling. Roomy. Comfortable. says the Chicago Sun-Times. The Magnum RT with the powerful and frugal multi-displacement 5.7-liter Hemi is one of a kind, at just $30,000. The Magnum excels with its quiet cabin, smooth and solid ride, and tight handling. Its interior is well thought-out, and the rear-wheel-drive design with a long wheelbase and short overhangs allows a lot of room inside.